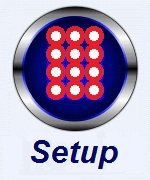 Real time animations
Each point contains a particle in an up (red) or down (blue) state.
Imagine magnets lined up, some pointed south (red, away from you) or north (blue, towards you). Click Setup button to restart a random configuration. Use Pause/Play to stop and start.
What to notice
Each square starts with a 50% random chance of being red or blue.
Each square has a chance of flipping depending on the status of its neighbors
Notice over time, areas or clumps of red or blue seem to form and re-form.